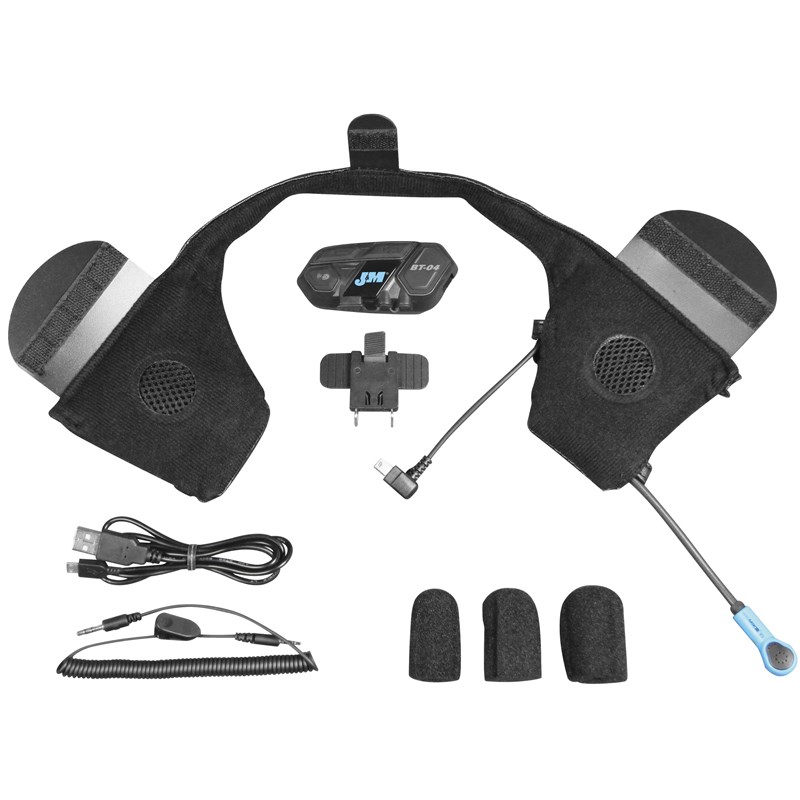 click on image for larger view
Elite BT-04 Series Bluetooth Headset for Half Style Helmets
Product Description
New BT-04 Elite Series Bluetooth headsets take another significant step forward in performance functionality and ease of use, with all new propriety internal firmware.
Custom Bluetooth 4.3 software package with profiles HSP, HFP, A2DP, AVRCP, JMAHP w/aptX digital stereo, along with private helmet-to-helmet intercom, using the simple secured pairing (SSP) linking mode to another BT-04, BT-03 or other brand of Bluetooth helmet headset. Utilizes new SmartBlu linking technology, for easy pairing to most standard Bluetooth enabled audio devices, along with direct headset linking to specific Bluetooth compatible motorcycle audio systems like the new 2018-2020 Honda Gold Wing, 2001-2017 GL1800 with BluHub custom dongle44, 2006-2020 Harley with BluHub custom dongle44, 2017-2019 Indian Chieftain, 2018-2019 CanAm Spyder and others yet to be released. Easy to install clip-on mount Bluetooth control head, 45mm. or 40mm. high-intensity helmet speakers with both boom and chin-bar versions of our high-output AeroMike VI microphone available. Versatile, easy to install component design to allow removal of the control head for in-house charging away from the helmet. Control head is powered by a rechargeable Lithium power cell providing 14-18 hours of use from a full charge.
Easy-to-download software updates to add additional features and improve performance are available from this page of the website.