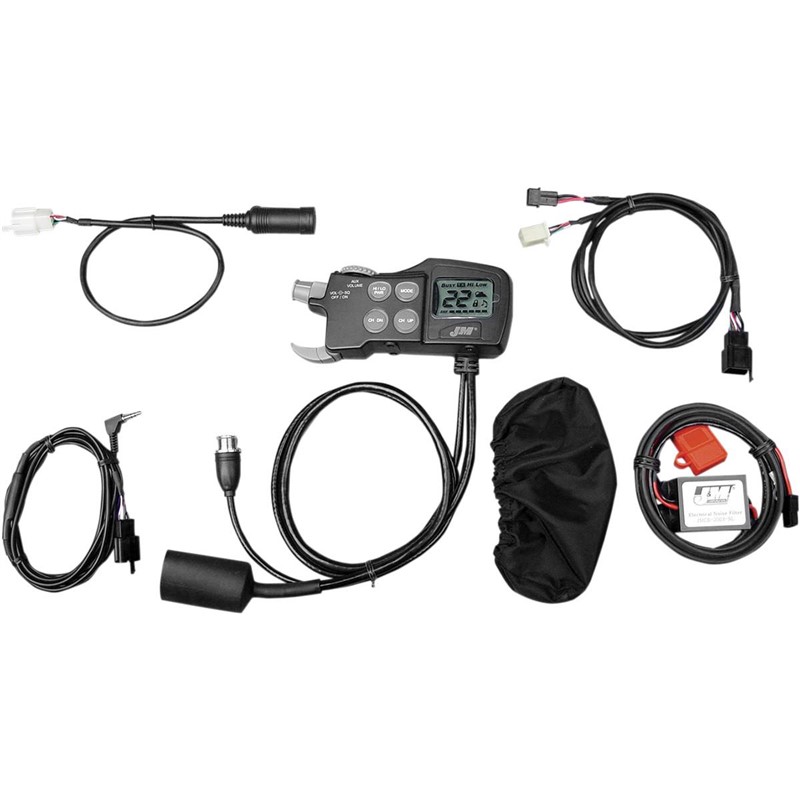 click on image for larger view
JMCB-2003 Handlebar-Mounted CB Audio System for Driver Headset Operation
Product Description
The Worlds First, All-In-One, Handlebar-Mounted Motorcycle Audio System...
This exciting product from J&M features a 40-channel CB radio, NOAA weather band, rider/passenger intercom and stereo music amplification from any Portable/MP3 type/iPod music device.
Mount it to your left handlebar with the proper bracket kit, connect the headset/ power harness to your bikes electrical system, (choose between solo or rider/ passenger kits) install our license plate mounted CB antenna, (or any other properly tuned CB antenna) plug in your favorite J&M dual mode helmet headset/headsets and you are ready to go.
All knobs and controls have been designed for ease of use while riding, even with gloves on and in addition, the unit is water resistant so you wont have to worry about getting caught out in the rain.
The new JMCB-2003K model has been designed with an expanded 6-circuit aux input plug to accept J&Ms new iPod controller with Bluetooth connection interrupt, to provide the circuits necessary to play music from an iPod, keep the iPod charged while riding and/or listen to stereo music from a Bluetooth linked device AND actually talk over the cell phone, all thru the driver or passenger corded helmet headsets (no batteries to charge).
New Can-bus compatible power supply/noise filter included with all models.
Important Note: The JMCB-2003 is a J&M 6-pin audio system that requires the pre-amplified microphone signal provided by our Dual Mode helmet headsets along with the #HC-ZJM or HC-PJM lower section hook-up cord.