Motorcycle Gear 101 is a starting point for you riders that just entered the motorcycle world, which will consume you until it becomes an addiction. Maybe you haven't been on a bike in years and are ready to throw the leg over the saddle again, but don't really know where to start. If you want to avoid my ramble, scroll on down and check out our break down of motorcycle gear basics.
Much like technology, motorcycle gear continues to change each year with new protective materials. Even the air flowing mesh constructed motorcycle jackets, pants and gloves are relatively new to the motorcycle scene. People a lot smarter than myself continue to develop new innovative materials and products that are insanely technological with the purpose of protecting your delicate body. For example, D3O has graced the protective market with qualities that leave you with your jaw dropped and your eyes left stunned. This Silly Putty like substance almost melts in your hand, it is soft to the touch, can be molded and formed; yet upon impact it becomes rock hard and then instantly goes back to it's malleable state. But enough jibber on science.
The diverse world of motorcycle gear can be overwhelming for the rider just starting out-- we have all been there. Motorcycle 101 breaks down general motorcycle attire into 5 categories. Leather Race Gear, Textile Gear, Mesh Gear, Motorcycle Jeans and Armored Gear. As you progress through your years gripping the throttle, your closet will soon fill up with excessive enough gear to get you through a year of four seasons and the various weather they bring. But where do you start? Let's start with the five categories listed above.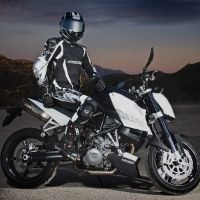 Not exactly where you will start off if you are still realizing your hands are numb and tingly from the handlebar vibrations, but greatly important to the everyday motorcycle enthusiast. Leather Racing Motorcycle Gear. Leather is a very durable material that does a great job protecting against road rash abrasions. If you think about it, most all products that are going to take some wear and tear, whether it be anything from a gardening glove to a horse saddle, you are looking at a leather composition. Therefore most all motorcycle race suits and motorcycle race gloves will be made from leather to keep your flesh in tact if it were to enter the unfortunate duel with the asphalt. The downfall of leather is that it can be quite the warm riding attire, unless of course you are riding with your handle bars high rocking a pair of cut off jeans and a bare chest that is only covered by an unbuttoned leather vest. But hey, chicks dig it.
Textile Motorcycle Gear is what most riders will lean towards if the budget is tight. Not because it is essentially cheap gear, but it can get you through most of the weather conditions that Mother Earth can throw at us. Textile is a great choice because a lot of Textile Pants and Textile Jackets are also waterproof. But what you will find in motorcycle gear is that it is very much a game of pick and choose. Just like when you ladies choose the high heels for an evening of dancing. Sometimes you have to choose sexiness over comfort. Well, not exactly to that extent with motorcycle gear, but you get my point here. With a waterproof material, many are "breathable", but the fact is, they can get pretty warm. Fortunately, many jackets do have working air vents that you can open, although, there is never a guarantee for how much airflow they will provide. Now if you are looking for a great warm weather material, mesh is a great option.
Air flow baby. Comfort. That's what makes mesh a wonderful accessory for cruising comfortably. As you could expect, mesh isn't ideal for wet conditions or cold weather, but they do have mesh pants and jackets that are lined with waterproof and windproof linings-- ideal for all riding situations. Removable waterproof liners work great with mesh gear because you can keep it in your saddlebag or backpack and use it as needed.
Denim, like leather, makes for great abrasion protection. Maybe not to the extent of leather, however, they will hold up better sliding across the asphalt than your bare skin. The great aspect of rocking motorcycle jeans is comfort and style. Most motorcycle jeans, such as Sliders Jeans, look like a normal pair of jeans. Many motorcycle jeans have the ability to hold some protective armor that will then keep you safe from impact. Not every motorcycle mishap is going to be a joyous ride sliding down the pavement, unfortunately, you are most likely going to be a rag doll flailing in uncontrollable movements-- a bit of sliding and tumbling and rolling and ahhh oh [enter choice word here]. This isn't to scare you, that's just how it is. "Dress for the crash, not for the ride."
Protective Gear to keep your body safe from impact is the protective armor. There are many different types of armor. From armor that is removable, to over or under garment protection. They can be made from all types of materials. Anywhere from durable plastics, to foam, to rubber, to whatever new materials may enter the industry.
Fact of the matter is that it may not be your fault for winding up off the bike at 60 m.p.h, or 120 for you us daredevils. That really isn't the important thought, though. The important thought is: Have you protected yourself enough to create the least amount of damage to your body as possible? "I wish I would have worn my __________," is no story you ever want to tell. Fortunately for you, we have you covered. We can answer any and all questions you may have about keeping you, a friend, or a loved one protected from a crash. Drop us a line. Check out the video below for an in-detail breakdown for the previously stated categories. Again, "Dress for the Crash, Not the Ride."